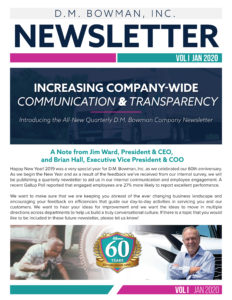 A Note from Jim Ward, President & CEO, and Brian Hall, Executive Vice President & COO
Happy New Year! 2019 was a very special year for D.M. Bowman, Inc. as we celebrated our 60th anniversary. As we begin the New Year and as a result of the feedback we've received from our internal survey, we will be publishing a quarterly newsletter to aid us in our internal communication and employee engagement. A recent Gallup Poll reported that engaged employees are 27% more likely to report excellent performance.
We want to make sure that we are keeping you abreast of the ever changing business landscape and encouraging your feedback on efficiencies that guide our day-to-day activities in servicing you and our customers. We want to hear your ideas for improvement and we want the ideas to move in multiple directions across departments to help us build a truly conversational culture. If there is a topic that you would like to be included in these future newsletter, please let us know!
Click here to view the Newsletter PDF