Maryland My Maryland! … Williamsport and Hagerstown, MD
A pro-business climate located in the heart of the mid-Atlantic at the intersection of I-81 and I-70, Washington County is the hub of the tristate region.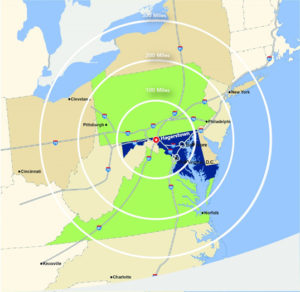 Proximity to excellent rail service and nation-spanning highways provide easy access to two-thirds of the nation's population overnight.
Maryland's sixth largest city, and Washington County's seat, Hagerstown is just an hour drive to Baltimore and Washington, D.C.
Two rail lines, CSX Transportation and Norfolk Southern Corporation Railways offering intermodal service, run through the County. The Port of Baltimore with its 50-foot channel is 80 miles east of Hagerstown.

INDIANA … "the Crossroads of America"
Bowman Logistics is located in the NW quadrant of Indianapolis which is the state capital and most populous city within the state and located within Marion County. Indiana is a global logistics leader and offers companies a strong competitive advantage when it comes to reaching North American and world markets. It is a national leader in pass-through interstates, home to the 2nd largest FedEx air hub worldwide, and 3rd in total freight railroads. Indiana is 1st in shortest distance to the median center of U.S. population.
Mileage to/from Indianapolis and key cities: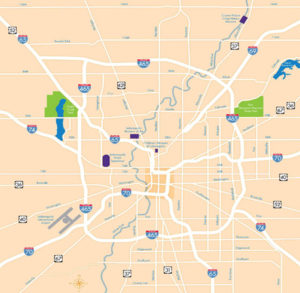 Louisville, KY – 126 miles
Cincinnati, OH – 128 miles
Chicago, IL – 174 miles
Columbus, OH – 187 miles
St. Louis, MO – 254 miles
Detroit, MI – 287 miles
Cleveland, OH – 329 miles